How did the little wren get its name? Why is the plaice's mouth crooked, and why do beans have a dark seam? This collection of five-lesser known fairy tales by the Brothers Grimm tells of the secrets and the hidden life of animals and plants in a bizarre way. Illustrated and reinterpreted by five artists, the fairy tales provide surprising explanations for the nature and meaningfulness of our world and thus provide entertaining reading pleasure.
The contributions were created in a two-day workshop and during an exchange with the Polish Grimm specialist Professor Eliza Karminska (University of Kassel). The publication appeared in cooperation with the Schauenburger Märchenwache as a special issue of the Breitenbacher Bilderblättchen. It was printed in three spot colors by the Boxan printing house in Kassel-Waldau.
32 pages, printed with three spot colors, 21 x 14,8 cm
Thread binding
Language: German
ISBN 978-3-96451-015-0
10,00 €
+ Shipping
All titles by this artist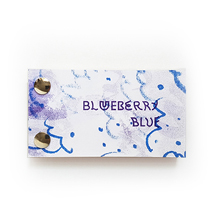 Ines & Kirsten Geißer
160 pages,three color riso print, 5,3 x 9,8 x 1,7cm.
9,00 €