It is winter and in a nameless forest in the north, the paths of a cat and a hawk cross. This brief encounter will be fateful for both, as death, who roams silently through the cold night, joins them. "Im Winter" is reminiscent of a classic animal fable, but instead of a moral mediation, the atmospheric tale focuses on the inner lives of the characters and their inevitable relationship.
Release Date: September 2021
Preorder Special: The first 50 orders of this book will come with a small surprise!
32 pages, b/w, 14,5 x 19,5 cm,
duotone (black/black),
Hardcover, thread-stitching,
Language: German

ISBN 978-3-96451-026-6
12,00 €
+ Shipping
All titles by this artist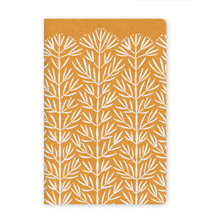 Rita Fürstenau
Sketch-book at 36 pages, 14,5 x 22 cm, thread stitching
8,00 €