The student anthology TRIEBWERK appears for the eighth time this year. The new issue includes a diverse selection of comics and illustrations, which were created during the last two semesters in the class for Illustration & Comic at the Kunsthochschule Kassel with Prof. Hendrik Dorgathen and LfbA Lea Heinrich. A total of 16 students with different personal backgrounds, working methods and freely chosen content contributed to this book. It is all the more impressive how round and closed the project has become. Last but not least, a homogeneous color concept as well as the wonderful illustrations of the student Jolanda Obleser on envelopes and intermediate pages create a visual framework for the various works.
It is also remarkable how continuously the class of Illustration & Comic has produced new editions since the first Triebwek publication 2005. In 2014 the sixth issue won the Max und Moritz Prize for the best student publication at the 16th International Comic Salon in Erlangen. Many of the participants in former Triebwerk editions have become recognized and passionate authors, draftsmen, editors, publishers, lecturers after completing their studies at the Kunsthochschule Kassel.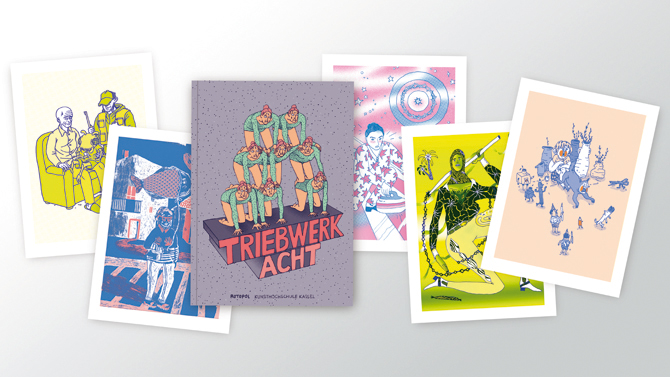 Preorder Special: The first 50 orders of TRIEBWERK #8 will come with a set five two colored riso prints.
168 pages, full color, 19,5 x 27 cm
paperback, thread-stitching
bilingual: German/English
ISBN 978-3-940304-20-9
17,00 €
+ Shipping