The first inbetween Kiin.zine. More precisely it is somewhere between Kiin. #7 and Kiin. #8. Created for the Super Villain groupshow at Rotopol, it is an essential companion for the modern villian of today.
KIIN.between #1
ISBN 978-3-940304-72-8
22 pages, b/w, 14.8 x 21 cm
limited edition (100), numbered
All titles by this artist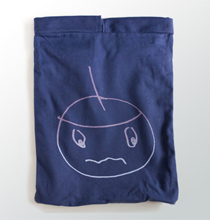 Ines & Kirsten Geißer
Cotton backpack, needs to be washed (30 ° C), and ironed inside out, 30 x 40 cm.
25,00 €