The perfect backpack for your next excursion to the blue berry fields or simply for every day. Hand-printed with a color gradient and equipped with adjustable straps, waistband and a small zipped pocket, this backpack will quickly become a favorite.
Cotton backpack, needs to be washed (30 ° C), and ironed inside out, 30 x 40 cm.
All titles by this artist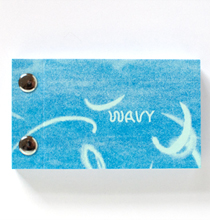 Ines & Kirsten Geißer
142 pages, two color riso print, 5,5 x 9,5 cm.
9,00 €