KIIN. TO GO You always wanted to know who the authors of the KIIN.zine Ines and Kirsten are and how they look like? So you should get your hands on the new KIIN. #11. The first KIIN. without drawings but with lots of photographs of the Franconian sisters. And with stickers!
36 pages, s/w, 14.8 x 21 cm
limited edition (150), numbered
ISBN 978-3-940304-84-1
5,50 €
+ Shipping
All titles by this artist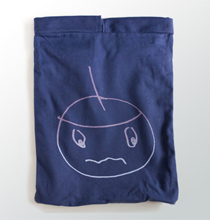 Ines & Kirsten Geißer
Cotton backpack, needs to be washed (30 ° C), and ironed inside out, 30 x 40 cm.
25,00 €