whatchulookinat? We pause in some minutes of silence holding the Kiin. #10 to commemorate one of the greatest chanteuse in pop-history: Whitney Houston.
28 pages, b/w, 14.8 x 21 cm
limited edition (100), numbered
ISBN 978-3-940304-79-7
5,50 €
+ Shipping
All titles by this artist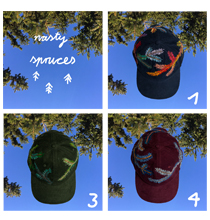 Ines & Kirsten Geißer
Hand embroidered cord caps in limited collection.
35,00 €