Aglaé, a nymph from the forest of Enna, is the protagonist in this big drama. Advanced in pregnancy and disowned by her own father, she finds refuge in the circus troupe around Mister Kite. Unfortunately the circus is in the kingdom of Marylène, where the cruel despot von Krantz seeks especially the lifes of unmarried mothers. Aglaé has to come to terms with the new circumstances and fate is on her side. But in her search for affection and individual fulfilment, she drifts from one life to another and ends up losing more than she is aware of.
Anne Simon succeeds to weave the various levels of action into an impressive epic with her imaginative drawings. She underlines the tragic, sometimes the absurd humour of the story, which is about love which destroys, about power, which rulers exert on their subjects, and about interpersonal tyranny. From the myths of classical antiquity to the Beatles to Simone de Beauvoir, Anne Simone creates a dense universe full of allusions, populated by extraordinary characters.

Translated from French by Irène Bluche.
120 pages, b/w, 17 x 22 cm
paperback with flaps, thread-stitching
978-3-940304-89-6
17,00 €
+ Shipping
All titles by this artist
Anne Simon
164 pages, b/w, 17 x 22 cm
19,00 €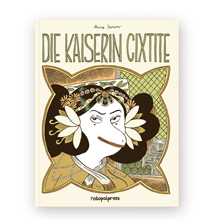 Anne Simon
80 pages, full color, 17 x 22 cm
18,00 €