In Suffragette City everything is all right. Aglaé, the almighty Queen of Marylène, is at the height of her reign. Thanks to her, the people could finally rid themselves of their predecessor, the tyrant Victor von Krantz, under which the country had suffered for so many years. But this new carelessness is short-lived.
Cixtite, the Empress of Chichinien, detains all men of Marylène with a deceit to make eunuchs of the palast out of them. Only a small group, including Aglaé's husband Mister Kite, as well as her lover Philippe, manages to hide and escape the threat of forced castration. Anger is growing and the residents of Suffragette City are demanding the return of their men from the chichiniese captivity. Aglaé has no choice. She has to negotiate with Cixtite and at best before Cixtite can realize her ghastly plan. If Cixtite does not set the men free immediately, Aglaé is even ready to get them back with force. But she can only resolve this political conflict with the help of Simone, her right hand, and Damien, her faithful cook.
With DIE KAISERIN CIXTITE the French artist Anne Simon extends her large-scale saga and it loosely ties in with DAS TUN UND LASSEN DER AGLAÉ. One encounters the already familiar figures of their universe again and travels with them to a new scene, the distant Chichinien.

Translated from French by Irène Bluche.
80 pages, full collor, 17 x 22 cm
paperback with flaps, thread-stitching
978-3-940304-96-4
18,00 €
+ Shipping
All titles by this artist
Anne Simon
164 pages, b/w, 17 x 22 cm
19,00 €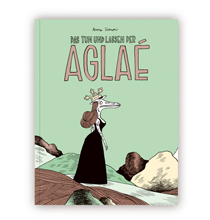 Anne Simon
120 pages, b/w, 17 x 22 cm, paperback with flaps
17,00 €