Loosely and yet meaningfully, Alice Socal describes the experiences of her pregnancies in an interplay of irony and perplexity. Combining text and image, she organizes her doubts, fears, expectations and wonders of this special time. In the leading roles: a cat as alter ego, a dog as boyfriend and a seal as the pregnancy itself.
"Wie lange noch" is documentary and reflection at the same time. The narrative in comic form proves to be the perfect medium, both for the humorous contemplation of personal insights and for the analysis of identity issues between desire and reality – as woman, partner, artist and mother-to-be.
Release date: Oktober 2022
Preorder Special: The first 50 pre orders of this book will come with a small surprise!
100 pages, full color, 16,5 x 19,5 cmSoftcoverPrinted in special colorLanguage: german

ISBN 978-3-96451-034-1
17,00 €
+ Shipping
All titles by this artist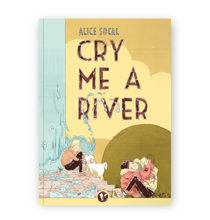 Alice Socal
136 pages, b/w, 17 x 24 cm, paperback, thread-stitching
16,00 €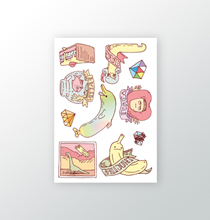 Alice Socal
Set of 10 temporary tattoos
14,8 x 10,5 cm
3,00 €
Alice Socal
Translation: Cordula Patzig
Release date: March 10th 2016
18,00 €