René the ruminative bear has a great passion for philosophy. Unfortunately hunting and hybernating steal a lot of his time for meditating over the questions of life itself. Lucky for him he and his quirky raccoon friend Marvin get captured and trapped in a zoo, where there is endless time for them to ponder about the substance of reality. Together the two forest dwellers explore the biggest secrets of rationalism. Thomas Wellmann takes us on a humerous yet perspicuous field trip to the basics of philosophy, freely told after René Descartes.
Release date: October 2023
Preorder Special: All pre orders of this book will come with a small surprise!
36 pages, two-colored with one spot color, 22 x 13.5 cm, hardcover Language: english

ISBN 978-3-96451-049-5
14,00 €
+ Shipping
All titles by this artist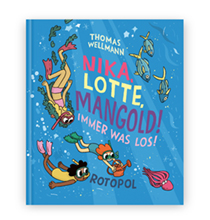 Thomas Wellmann
84 pages, full color, 16,5 x 19,5 cm
15,00 €