At the International Comic Salon Erlangen 2014 Pimo & Rex won the ICOM-award for outstanding artwork 2014.
Pimo and Rex are two gallant bon vivants who don't miss out on any adventure. On their steeds they bomb down the woods. The worries life as an artist involves are already forgotten when entering the next tavern, at last Rex has great news to announce. His fiancé Leopold finally has proposed to him, garnished with a magical betrothal gift: an enchanted scroll able to teleport Rex home immediately in time of need. Not knowing how useful this gift will be the two friends are celebrating the happy event.
Stop complaining
and do your job!
Give me some inspiration!
Two exciting adventures with two daredevil heroes who are still able to deliver a good show even when totally wasted. In supporting roles: a magical muse, a despotic necromancer and some bored reawakened.
In his third book released by Rotopolpress Thomas Wellmann proves his talent as an excellent story teller with a unique style.
This is the german edition of Pimo & Rex. You can find the english edition, that will be released simultaniously in the Uk in co-operation with Blank Slate Books at Pimo & Rex – english.

40 pages, full color, 20.5 x 27.5 cm
german, paperback, thread-stitching
ISBN 978-3-96451-021-1
15,00 €
+ Shipping
All titles by this artist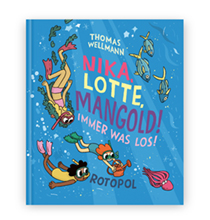 Thomas Wellmann
84 pages, full color, 16,5 x 19,5 cm
15,00 €