Nika, Lotte and Mangold take you on a tour of discovery in Dackeltal and show you how to draw great characters in different moods and tell your own stories as a comic. You can help Lotte set up her new room, accompany the three friends on a visit to the aquarium, design your own tree house, and more.
20 pages, full color, 14,5 x 21 cm
saddle stich
Sprache: deutsch

4,00 €
+ Shipping
All titles by this artist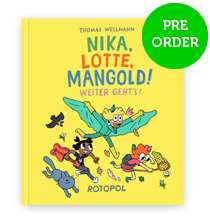 Thomas Wellmann
84 pages, 16,5 x 19,5 cm, Hardcover, full color.
15,00 €