Bob is a dedicated mail carrier. With his spaceship, he delivers letters and packages to every corner of the universe. On a well organized schedule he makes sure no party enthused senior, riddle-loving grim reaper or ambitious scientist misses out. But surely there's still time for lunch, right? Since this morning Bob is tormented by a great appetite, but this won't be his only problem on this particular work day. The third volume of the award-winning comic series impresses with a humorous narrative style, imaginative worldbuilding and charming characters. Bob's adventures are as harrowing as they are hilarious and come in reduced yet detailed drawings with countless to discover.
Release date: August 2023
Preorder Special: All pre orders of this book will come with a small surprise!
Translated from French by Ulrich Pröfrock.
160 pages, full color, 16,5 x 19,5 cm, hardcover, language: German. Reading age: 7+

ISBN 978-3-96451-047-1
18,00 €
+ Shipping
All titles by this artist
Guillaume Perreault
152 pages, full color, 17 x 23 cm
18,00 €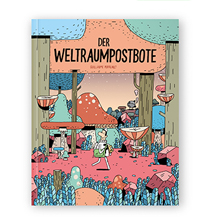 Guillaume Perreault
144 pages, full color, 17 x 23 cm
18,00 €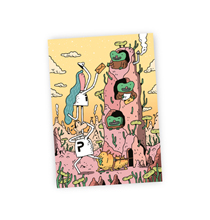 Guillaume Perreault
Postcard, full color, 14,8 x 10,5 cm
1,00 €