Yes! It's the ice-cream truck song that you are hearing… in November! In Brooklyn ice-cream is not a seasonal business. You can enjoy a vanilla cone while wearing mittens, join a secretly gambling dog to a cockroach fight or have your heart broken by a pigeon at anytime.
"I can´t believe that you told her,
I told you that she told me those
things about you!"
"Hearsay" is a walk through our favorite, dirty, New York neighborhood. Bouncing around town, trying to follow who is saying what about whom and maybe stop to taste some red velvet donuts.

40 pages, b/w, 16 x 19,5 cm
saddle stich
978-3-940304-55-1
9,00 €
+ Shipping
All titles by this artist
Lea Heinrich
Giclée print, 29,7 x 42 cm, limited edition (50), numbered
50,00 €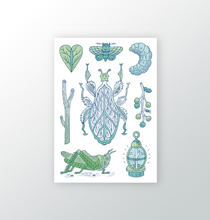 Lea Heinrich
Set of 8 temporary tattoos
14,8 x 10,5 cm
3,00 €