Bob is a dedicated mail carrier. With his spaceship, he delivers letters and packages to every corner of the universe. In his latest adventure, our lone postman from space has to team-up with a new colleague Marcella, to deliver a single letter. What seems to be a simple task at first, soon turns into a chaotic journey from one end of the galaxy to the other. If that isn`t enough, someone else also casts an eye on the mysterious envelope and secretly starts to follow the two …
The exciting new volume of the comic series impresses with a humorous narrative style, imaginative worldbuilding and charming characters. Bob's adventures are as harrowing as they are hilarious and come in reduced yet detailed drawings with plenty to discover.
Translated from French by Ulrich Pröfrock.
152 pages, full color, 17 x 23 cm, hardcover, language: German. Reading age: 7+

ISBN 978-3-96451-030-3
18,00 €
+ Shipping
All titles by this artist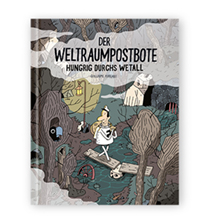 Guillaume Perreault
160 pages, full color, 16,5 x 19,5 cm
18,00 €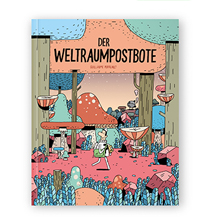 Guillaume Perreault
144 pages, full color, 17 x 23 cm
18,00 €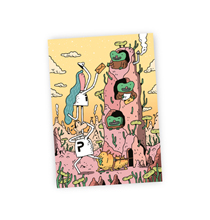 Guillaume Perreault
Postcard, full color, 14,8 x 10,5 cm
1,00 €