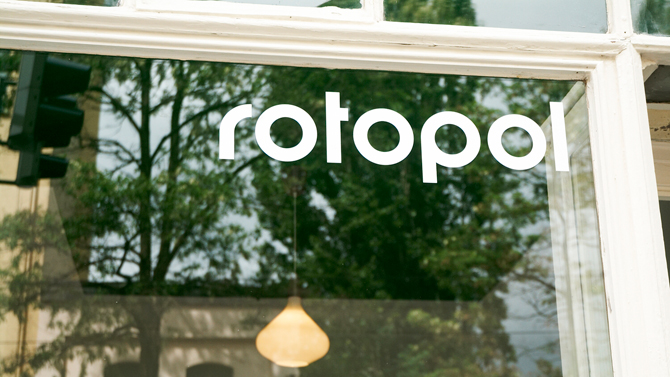 WHO ARE WE?
Rotopolpress is a publishing house for graphic storytelling. Our range of products focuses mainly on comics and illustration books, but also includes high-quality art prints, paper games, calendars, postcards and hand-made sketch books. Carefully chosen in line with our taste and elaborately produced, our books and products touch upon the borders of what illustration can accomplish.
We – Rita Fürstenau, Lisa Röper and Michael Meier– are not only publishers but also illustrators and exhibitors. We are working collaboratively with a continuously growing network of illustrators, comic artists and designers, publishing their works at Rotopolpress and promoting them through exhibitions in our art gallery in Kassel, Rotopol. Among those, you can find already established names of the international illustration scene like McBess, Jesse Jacobs, Hellen Jo or Thomas Wellmann, but also as yet undiscovered talents.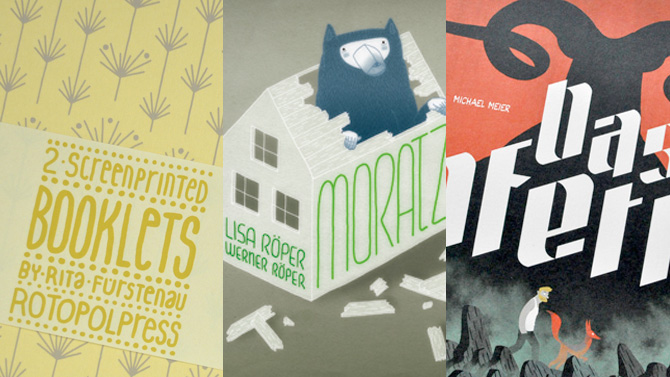 WHAT IS THE PURPOSE OF ROTOPOLPRESS?
We founded Rotopolpress six years ago, while we were still studying illustration at the School of Arts and Design Kassel. Initially, it was our goal to create a possibility to publish our own works and the works of fellow young illustrators, while being able to make all the creative decisions involved by ourselves. We created our own working conditions and wanted to continue the same way after our graduation: self determined and in a position to exchange creative ideas with our peers; on a high creative level and independent from short-lived market trends. Ignoring Berlin's excited call, we stayed in Kassel, in the "Vorderer Westen" area, where the creative bustling has been increasing in the last few years – even outside the documenta season. Picking up some allies, we developed our first Rotopol idea into a fully grown independent publishing house.
WHAT IS IMPORTANT TO US?
Rotopolpress wants to provide an alternative in the publishing field; in terms of product range as well as production- and working conditions. At Rotopolpress, we want to promote personal styles and offer illustrators, comic artists and designers the opportunity to implement unconventional contents and visual ideas. We are interested in a strong personal style that does not exhaust itself in formal baubles. When we pick up a comic, we want to be entertained and surprised. For us, it is all about books that you want to read again and again, always discovering something new. The editing and production process is done in close cooperation with the author, and we are working hard to find an individual format and layout for every piece.
And since some ideas do not fit between two book covers, we make more from paper than just beautiful books: calendars that outsize the dimensions of a smart phone by far, epically opening fanfolds or craft games that require even adults to apply a lot of tactical sense.
It is particularly important to us that the production process of our books and products is executed as close and controlled as possible. Especially with unusual formats and small editions, we like to work with local printers and work integration social enterprises. When it comes to materials, we focus on sustainability and only use natural, uncoated paper. Art- and textile prints are produced in our own studio, which also includes a screen printing workshop.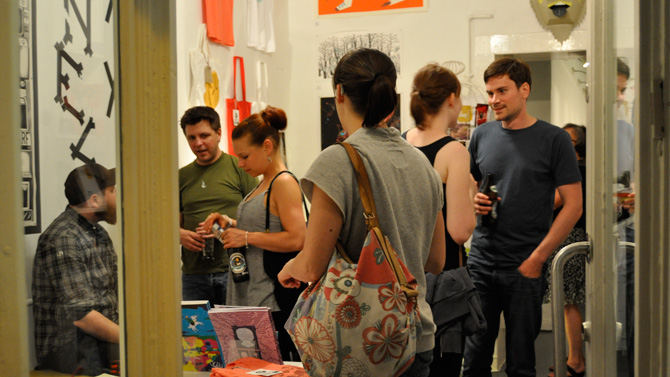 ROTOPOL
The Rotopolpress concept only works because we think beyond classic publishing structures. This idea is represented by the label, Rotopol. Apart from the publishing house, the label includes our retail store in the Friedrich-Ebert-Straße, an integrated art gallery which hosts varying exhibitions year-round, as well as our art studio, where we work together as an illustrators' collective. Rotopol is rooted in Kassel – with an international network. All in all, we look at Rotopol as a platform with a wide reach, bringing together the creative potential around us, developing it and making it visible in multiple ways.