After the surprising success of the first volume, the adventures of Pimo and Rex continue: Rex is finally led to the wedding altar by his fiancé Leopold while Pimo struggles with his new role as best man. His heart-throb, the magic muse Margret does not stop turning his head and amid the wedding guests is a mysterious cavalier who should not be left unobserved. While the friends celebrate, the sly Yaya embarks on a journey to steal the First Eye, a legendary magic wand that promises immortality. And above everything hangs a sinister threat: in the lonely volcano Roudberg an extremely dangerous prisoner is preparing her escape.

Release Date: October 2019
Preorder Special: The first 50 orders of this book will come with a small surprise!
112 pages, full color, 27.5 x 20.5 cm
english, paperback, thread-stitching
ISBN 978-3-940304-91
19,00 €
+ Shipping
All titles by this artist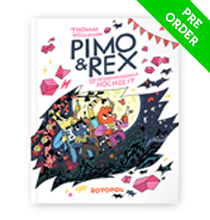 Thomas Wellmann
112 pages, full color, 27.5 x 20.5 cm, paperback
19,00 €