How is Pimo doing? Find out by wearing this cap and slipping into the mind of our all-time favorite adventurer and struggling poet.
Embroidered cap made of 100% cotton, One size


25,00 €
+ Shipping
All titles by this artist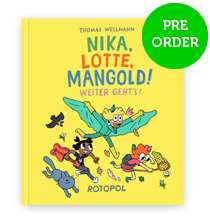 Thomas Wellmann
84 pages, 16,5 x 19,5 cm, Hardcover, full color.
15,00 €