When Lisa was little, she had a big and strong friend. More precisely a bobtail giant schnauzer crossbreed from an animal shelter. His name was Moritz. A dog needs a thick skin and be of a forgiving nature, when living with small children.
"Moratz is a strong mutt,
big eyes, and a round butt,
always squinting heavily,
Lisa loves him cheerfully."
Moritz had what it takes, being sun shade, playmate and snugglebun for little Lisa. She also found her very own interpretations, in order to explain the reoccurring, but scarcely happening moments of total absence of mind or confusion of this extraordinary dog. Lisa and her father Werner Roeper have created a beautiful monument with these illustrations and poems in Moratz, honoring the four-legged family member from Lisa's childhood.
20 pages, full color, 12.7 x 15 cm
saddle stitch with book jacket
ISBN 978-3-940304-18-6
7,50 €
+ Shipping
All titles by this artist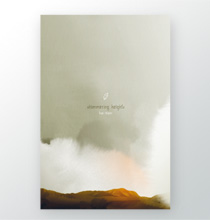 Lisa Röper
Leporello fold, full color, 21.5 x 32.4 cm
19,00 €