It´s surfing time! So get yourself in the mood for it with the new Kiin Zine C'est le Surf. Take a peek into the new riso printed collection of the surfing adventures and sensations of the Kiin sisters.
32 pages, three-color riso print, 14,8x 21 cm
Limited edition (100), numbered, including a set of 30 stickers
ISBN 978-3-940304-33-9
9,00 €
+ Shipping
All titles by this artist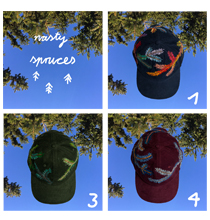 Ines & Kirsten Geißer
Hand embroidered cord caps in limited collection.
35,00 €